Centre Pompidou - Museum & Exhibition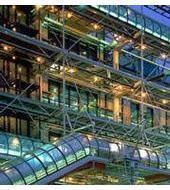 In 1969, President Pompidou took the decision to dedicate the Beaubourg area to the construction of a multidisciplinary cultural center entirely devoted to modern and contemporary art, a place where fine art could live alongside books, design, music and cinema.

The Centre Pompidou was inaugurated less than eight years later. It houses one of the three most important collections of modern and contemporary art in the world along with New York's Museum of Modern Art and London's Tate Modern. Moreover, it has the largest collection in Europe, constituted of around 100,000 works. It also houses important galleries for temporary exhibitions, concert halls, movie theatres and the Bpi (Public Information Library), which is the first European public reading library.

IMPORTANT! When you are under 18 years old (resident or non-resident European Union) or between 18 and 26 years old (and a resident of the European Union) you don´t have to buy a ticket but you can enter the museum for free (without purchasing a ticket)
Each first Sunday of the month the entrance to Centre Pompidou is free and you don´t need a ticket to enter the museum!
Address
Centre Pompidou
Place Georges POMPIDOU
75004 Paris

Opening Times:
Open Daily: 11.00 - 22.00.
Closed: Tuesdays and 1st May

Tickets will be sent in 24 hours in separate email.

Tickets sent by email!
Powered by Ticketbar